OpenPPL joins hands with Awesomepia to build meta commerce in the metaverse
November 29, 2021
Media : Seoul Economic Daily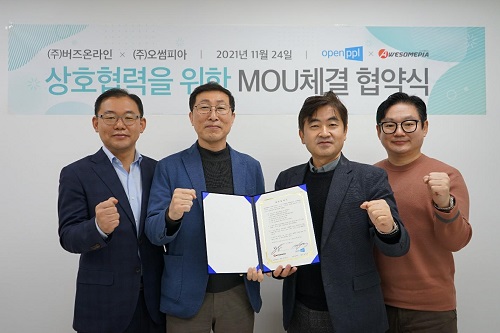 Buzz Online (CEO Lee Kyung-ok), which is servicing the global PPL commerce platform OpenPPL, has developed an XR (extended reality)-based metaverse platform to build a new type of meta commerce that integrates advertising and sales within the metaverse. It was announced on the 25th that it had decided to cooperate with Awesomepia (CEO Min Moon-ho), which operates 'MetaLive'.
OpenPPL, which pioneered a breakthrough PPL sales market by providing YouTubers with a shopping mall for free and allowing advertisers to register products for free, is a meta-commerce of a new concept that integrates indirect advertising and sales in Metaverse through this agreement with Awesomepia. A differentiated service that is one step ahead has been introduced.
On the other hand, Awesomepia is showing results in many areas such as education, tourism, medical care, and culture based on the differentiated metaverse technology that integrates the real world and the virtual world in real time. It is evaluated as a hot metaverse representative company that is attracting attention as a preliminary unicorn in the metaverse industry by attracting series A investment from large domestic companies.
OpenPLL CEO Lee Kyung-ok said, 'If the meta-commerce function that distributes profits just by avatars' activities is implemented, OpenPPL will become the most important digital economy ecosystem in the metaverse' and emphasized the importance of the digital economy ecosystem in the metaverse. emphasized.
< Copyright holder ⓒ Seoul Economic Daily, unauthorized reprinting and redistribution prohibited >
Source : https://www.sedaily.com/NewsView/22U5LAMQDJ